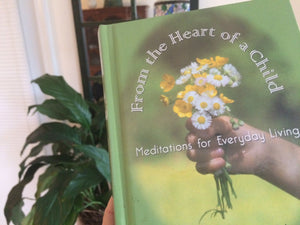 FROM THE HEART OF A CHILD: Mediations for Everyday Living
UPDATE  From the Heart of a Child is not available for autograph as it is out of print. The book is now available for download or on Amazon.


DESCRIPTION
From the Heart of a Child includes meditations for everyday living inspired by Bible verses and anecdotes gleaned from parenting a young child. Includes thoughts on life and faith inspired by everyday experiences as a single parent. These ordinary moments became extraordinary gifts of faith.
This collection of devotional thoughts can be your companion along your faith journey. Each meditation weaves together words and images inspired by the amazing insights of a child.


PURCHASE OPTIONS
  ⚜️ BUY ON AMAZON **
  ⚜️ DOWNLOAD


** Amazon links are partner links. If you make a purchase we may receive a small commission. Thank you for your support.