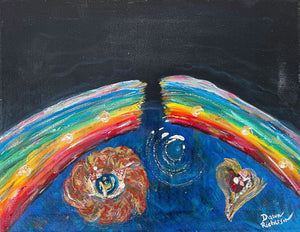 14"w x 11"h acrylic painting on cavas, ready to hang

The future hangs in the balance, yet much is happening. We are being transformed, rising into a whole new way of seeing ourselves, being ourselves, and freeing ourselves. There is the promise of a new Earth, a peaceable kingdom rooted in the light we are at our core and in a love that is without condition.
Yet, there is individual choice and the collective free will of humanity, the gracious gift of this life that leaves it all up to us. Will we choose to undergo individual and collective transformation? Or will we shrink from the rainbow, spinning in a chaos that refuses to allow the birth of dancing stars? We are a people and a planet in process—a world being born unto itself. 
I'll meet you on the way!