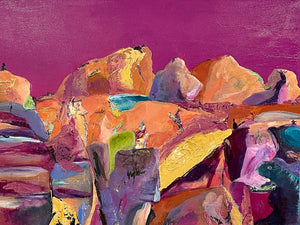 20"w x 16"h acrylic painting on canvas, ready to hang

ANCIENT AWAKENING AT ABIQUIU 
At sunset, they stood with reverence and an equal spirit of playful possibility. Theirs was an ancient awakening, a beginning again in joyful celebration of a quiet contribution to the whole creation. Ever alive with the colors of change within, the rock formations at Abiquiu seemed to lengthen and grow in stature and in truth as a silent reverie echoed like a shiver through the desert canyon at dusk.

This acrylic painting by Dawn Richerson was painted after a visit to Echo Amphitheater in Abiquiú, New Mexico, not far from Ghost Ranch and the land that inspired Georgia O'Keeffe. In the heart of America, my soul found its first freedom. From sea to shining sea, I was met with simple moments and sweeping landscapes that came to life before my eyes.

What does your soul remember? 
What story of life is alive in you?
I'll meet you on the way!