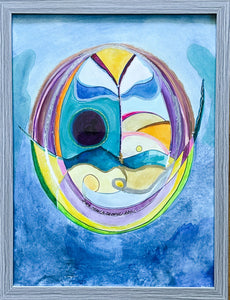 12"w x 18"h, watercolor on paper, framed, ready to hang 
$150 / set of 4 $475
FIRMAMENT: There Rose a Second Sea
Curvature & Creation Series
Once there was the world they had known, a blue sphere held in the void of space. And then, the collapse, a falling into an awakening that required a quiet grieving. There rose a second sea and, upon it, beauty, blessing, beginnings. Morning by morning, day by day, they awoke to a realm of radiance that required a whole new perspective and their embrace of a whole new way forward together.

This watercolor painting is from the Curvature and Creation series, which explores reflections on presence and potentiality in paint. You have an opportunity to meet change, and to be met by it, with grace and wonder along the curvature of creation. Connect to your essential story of life as you consider present potential and all that is being created and recreated, in our world and within you. 
What is your essential story of life? 
What is alive in you?
I'll meet you on the way!