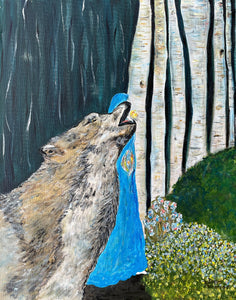 16"w x 20"h acrylic on canvas, ready to hang
NORTH WOODS 
North Woods was painted May 22, 2014, in Eagle River, Wisconsin, and inspired by a lone wolf howling on my Journey to the Heartland that month. It was a call to speak and I knew it. For me this painting feels honoring of that howling wolf and all he / she represents yet steadfast and transformative.
There is the feeling for me of the dis-mantling (literally throwing off the mantle) of fear and the reclamation of all that matters most. In a moment, I knew what must be faced and what was yet to be revealed. The treasure was a terror. The terror was a treasure. In the heart of America, on Wisconsin's north shore, all things came to life. 
 
What is your essential story of life? 
What is alive in you?
This painting by Virginia artist Dawn Richerson is from the Animal Kingdom and Magdalen series of paintings by Dawn Richerson. It was inspired by an experience in Wisconsin's North Woods, so is also a part of the Heart of America collection.
I'll meet you on the way!